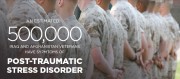 New York, NY, March 22, 2016 (Newswire.com) - Groupon recently launched a new product, Charlot's Web Disposable Vaporizer Pen. This vaporizer pen contains high level of CBD, a molecule found in the cannabis plant, and 0.3% THC. Several studies suggest that CBD can be used as an alternative treatment for people who suffer from PTSD symptoms, epilepsy and that it can even combat cancer cells. The vape pen contains CBD.
In the following link, customers can see how CBD treatment helped a little girl who was suffering from severe epileptic seizures. Find out more about this topic here: CBD Oil, PTSD and Veterans
For those interested, they can order CBD Vape Pens on Groupon by Clicking Here.
Share: